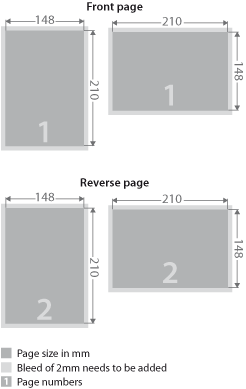 Paper
Our A5 invoice pads are printed on special carbonless paper which creates copy on a lower sheet(s) while you write. There are 50 invoices in each pad. You may choose between colour or black and white printed pads and additional numbered (with a sequence of numbers) and perforated.
4-part invoices means that there is an original + three copies of each invoice.
Turnaround time
On orders up to 10 invoice pads the turnaround time is usually 1-3 working days. For bigger amounts we need 4-6 working days, however there is an EXPRESS option available in many cases. Please contact us to check availability before placing an order.
Size and bleed
Size and bleed
A5 size is 148x210mm. We require 2mm of bleed added to each side of the design. The final file size (including bleed) should be 152x214mm. Please make sure that all elements of your invoice are away from the edge (at least 5mm). For perforated invoice pads leave 20 mm gap on top (or side)for stitches and perforation line.
If you require non-standard invoice pad size please contact us to discuss details.
File formats
Accepted file formats: PDF, PSD, TIF, EPS.
We DO NOT accept open files e.g. In Design, Illustrator, Corel Draw, MS Word, Publisher etc.
Colour space and resolution
Please supply your files in CMYK colour space and Hi Resolution (between 300 and 600dpi).
Collection or delivery
On checkout you can choose between collection from our London office or courier delivery:
Collect at CE Print: 9:30am–5:00pm (Monday to Friday) – Unit 29A, 63 Jeddo Road, London W12 9EE
Postal delivery: FREE next day delivery via courier.
We will do our best to print your invoice pads on-time. Every time!
Need more information?
Call us on 020 8749 6055 or send a message. We would love to hear from you!
---
You can download a set of blank templates here: