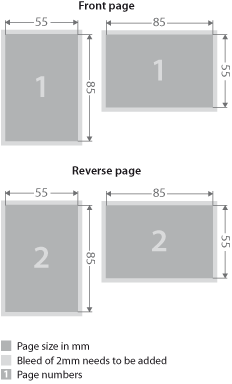 How to start
If you are uncertain of any aspect of file preparation or which colour to choose or have any questions please contact us before placing an order. We would love to hear from you and advise you in order to make the production process go smoothely and to achieve great results.
Luxurious business cards
This is a special range of printed business cards dedicated to customers looking for a high quality product, manufactured with special care and approach to give great look, finish and feel. Extra thick (700gsm), made on triplexed cards using hot foil printing technique this range will make you stand out and present yourself in a unique way.
Paper
Triplexed card means that we use stock (card) made of three different cards glued together as a 'sandwich' giving total thickness of 700gsm. You can pick from the range of GF Smiths COLORPLAN papers (www.gfsmith.com). When placing an order from our online shop please specify the colours during checkout.
Finishing
Our LUXE cards can be made as a combination of digital printing and hot foil printing. As standard we offer a range of hot foil colours including gold, silver, white, transparent gloss or matt - please specify it during checkout. If you require a special colour, contact us to check availability.
Please note that all elements which you want to be hot foil stamped must be supplied as vector objects. We require a proper press-quality PDF file in order to manufacture hot foil business cards.
Turnaround time
In most cases our luxurious business cards can be printed within 5-7 working days. If you require fast turnaround time please contact us to check availibility before placing an order.
Size and bleed
Standard business card size in the UK is 85x55mm - same size as a debit or credit card. We can also print your business cards according to custom requirements. Call us to discuss details.
We require 2mm of bleed added to each side of the design. The final file size (including bleed) should be 89x59mm.
File formats
Accepted file formats: PDF, EPS.
We DO NOT accept open files e.g. In Design, Illustrator, Corel Draw, MS Word, Publisher etc.
Colour space and resolution
Please supply your files in CMYK colour space and Hi Resolution (between 300 and 600dpi).
All hot foil elements should be distinguished from other elements of the design - eg. by filling them with PANTONE colours.
Collection or delivery
On checkout you can choose between collection from our London office or courier delivery:
Collect at CE Print: 9:30am–5:00pm (Monday to Friday) – Unit 29A, 63 Jeddo Road, London W12 9EE
Postal delivery: FREE next day delivery via courier.
We will do our best to print your business cards on-time. Every time!
Need more information?
Call us on 020 8749 6055 or send a message. We would love to hear from you!
---
You can download a set of blank templates here: